It didn't take me long after arriving in Nigeria as a schoolboy to learn the legend of Samson Siasia.  One of the best footballers among my classmates was immediately given "Siasia" as a nickname, and when I asked why, I would be regaled of the eponymous player's energetic style in the colors of Nigerian clubs Julius Berger and Flash Flamingoes, bombing forward to goal with pace and power.  I watched him in the Nigerian 1994 African Nations Cup winning side, and playing in the USA '94 World Cup, that exciting, raw team that entertained everybody, and only lost in that extra time heart-breaker against Italy.
I've also watched his stewardship of Nigerian youth national teams, and his great exploits managing some of the promising talent that's become the backbone of our current side.  For me, it should have been a no-brainer for Siasia to be promoted to national team coach, and I've said so
again
and
again
.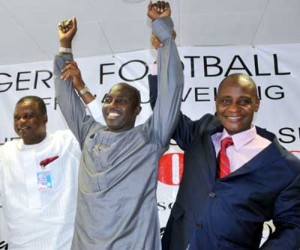 Well hallelujah! Finally it's come to pass. 
SIasia was appointed head coach of the Super Eagles last month
.  The heartwarming stuff started straightaway, with his
celebrating with genune emotion, and singing Yoruba praise songs
.  This is
an institution that means to almost 200 million people so much more than just a bunch of footballers
("41. They aren't kidding when they talk about football as a unifying force.")  It's only proper for someone granted its custodianship to demonstrate what it really means to him, especially when that demonstration includes a bit of native Yoruba to reinforce the fact that we're keeping this business properly in the family.  Yes, yes Shaibu Amodu (National team coach in several stints between foreign coaches) before him was also Nigerian, but he always seemed as much bureaucrat as trainer, and rarely showed the passion and fire I think our boys need to show what they're capable of doing in that green strip.  In the past we've had great leaders in the field such as Yekini, Okocha, Olise, Amokachi and even Siasia.  Unfortunately we don't really have that any more, so we need a spark from the sidelines.  If Siasia can't provide that, no one can.
And now that the seemingly irredeemable NFF have astonished us by making the obvious move, I hope they have the good sense to be patient with Siasia.  He is already making the noises that the national side needs a complete change in mindset.  He is right, but it will not happen overnight.  The once exciting John Mikel Obi, for example, has been turned into a lumbering apparatchik of the ruthlessly efficient Chelsea juggernaut.  He has lost his soul.  We'll need to figure out how to deal with Obi and other players who've undergone reprogramming by their clubs, who do after all pay their wages, fair enough.  When they put on the green and white strip they need to rediscover the soul of Nigerian football, and there will be some trial and error while Siasia sets about leading them to that rediscovery.  Let's not go running back to some European coach the first time the Eagles make a tournament misstep. Much is made of the need for an Englishman in the England manager job.  The same logic applies to African nations.  It's not that African coaches would necessarily be better right away, but how can we eventually groom a cadre of African coaches if we don't put our faith in our present, brightest prospects?  European coaches don't make it their business to build the local academies of coaches and players.  They don't care.  They just want their multi-million wages and matchday bonuses.  We need someone who will shed a few tears and show that his connection to the job runs deeper than the paycheck.  Enter Samson Siasia.  And It's about time.  "Oṣe oṣe ooh! Oṣe oooh! Oṣe baba!" Up Super Eagles!